Mortgage Calculator
The monthly payment below is based on the listing price of this home for a 30 year fixed rate mortgage at 3.5% with a 20 percent down payment. Change the information below to recalculate a monthly payment.
$
$
Approximate Payment Information
$
$

$
Calculate
Note: The above estimates are approximations only and WITHOUT ANY WARRANTY,expressed or implied, for the accuracy or applicablility of this information. Check with your financial advisor before making any loan decision.
| | |
| --- | --- |
| Property : | 貝賽全磚花園豪宅 |
| Type : | Residential (For Sale) |
| Location : | Queens |
| Price : | $1,500,000.00 |
一樓壁爐,正式客飯廳,進食廚房,拉門通向後院. 二樓主人套房+步入式衣帽間,陽台.加2臥1全浴,按摩浴缸. 預約看房請電或短信代理經紀 Gladys 917-687-6862
BAYSIDE, QUEENS Bay Terrace Gardens. Spacious 1 F Solid Brick house in a Cul-de-Sac, w/ att. garage . Beautifully landscaped & paved backyard with built in BBG & cooking area. Both sides of house are gated and completely paved. DO NOT MISS THIS HOUSE!. ……………… …Asking $1,500,000 Prequalification .a must! Zoning: R3-2. Lot: 65'x88' (5,720 sq.ft.) Room to expand! 1st fl: Marbled floors throughout. Entrance Double Door opens to an elegance marbled LR showcasing a one of a kind custom carved jade fireplace, & marbled floor, Marbled Hallway leads to a one Fbth, & door to Fbsmt. Dining Room with marbled floor, and custom EIK kitchen with 36"cabinets, & marbled floor. Kitchen has double doors which opens out to paved backyard, ready for entertaining family & friends. House has CAC, central staircase Altrium all decked out with tall plants, leading up to the second floor with abundance of light from Skylight, top hats, & large windows. A delightful sight to behold! Full/Finished bsmt with OSE. Family room, Office, Fbth, boiler/hot water heater. Garage. 1fl: LV, EIK, Double Door to paved Backyard; FDR, Stairs to Altruim, and 2nd fl., FBTh, door to bsmt. 2fl: MBR with 1Fth, Walk in Closet, Double Door to Balcony; 2 BRs, 1FBth with large Jacuzzi & skylight, All appointments thru Gladys Yan –917-687-6862 text. Need 24 hr. notice. thru Gladys Yan, Listing Broker. Text all appointments with name, & request for appt/day/date/time. Thank you.
* Please contact real estate agent below for more detail information

Click For Other Listing
Real Estate Agent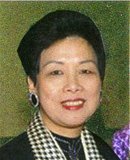 Agent Name:

GLADYS YAN

Cell Number:

(917) 687-6862

Phone Number: